Radiation and Risk assessment from mobile telephony antennas and power lines measurements of non-ionizing radiation
Risk management is at the heart of any organization's management strategy. It is the process by which organizations methodically approach the risks associated with their activities, in order to achieve profit in each activity. The focus of good risk management is recognizing and managing these risks. Increases the chances of success of the overall goals of the organization.
Give your company staff the opportunity to work in a healthy electromagnetic environment with well-being, good mood and ultimately efficiency in their work with immediate business benefit
Knowing the risks and potential sources of electromagnetic hazard and strain on your business, you can deal with them in simple steps
Show sensitivity by providing a healthy environment electromagnetically with immediate appreciation and benefit from the acceptance of your customers and staff.
Occupational risk management analysis by wireless endogenous and external communications, signals and Radio Frequencies, TV, Radio Stations, mobile telephony bases and communications systems.
Reinforce business risk study with electromagnetic field measurements and electromagnetic mapping of buildings and workplaces
Applications in:
Office space
Business streats areas with multiple electromagnetic signals outside and inside
Industries and Industrial Areas
TV and Radio Stations
Maternity Hospitals
Kindergartens - Primary Schools, Gymnasiums, Lyceums
Tutoring, Colleges
Conservatories, music houses
Supplies
Lecture rooms, theaters, cinemas
Hotels
Spa, Fitness
Recording Studio
Crafts and small businesses and many other cases
The risk assessment can reveal from the very early stages whether or not it is worthwhile for the organization to deal with an offer. There are developed risk management procedures as an ongoing process throughout the project. Risk management can be applied to all projects, from very small (implemented by one person) to very large and complex. Many problems can be addressed in advance and give the project manager the opportunity to determine a specific course.

Almost no project is developed in an ideal environment. Risk management must integrate tools that will not only identify potential risks but also analyze the capabilities of each so that it is possible to manage the most important on an ongoing basis. Risk management is divided into three main areas: risk identification, quantification and control or mitigation.
The institutionalized limits of electromagnetic radiation in Greece and internationally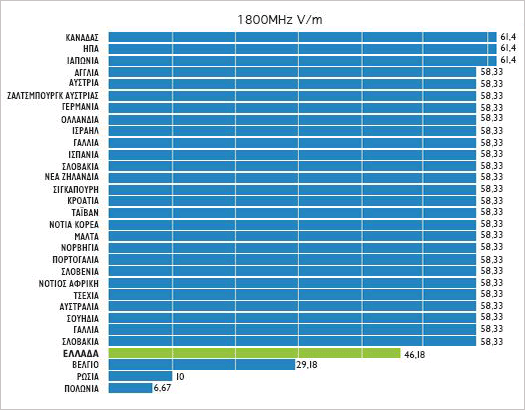 RF LF HF EMF EMF EMF Danger Recognition

A key feature of risk is those elements of the project that are likely to indicate that something is wrong with the project. Problems are mainly created by a project team (eg an interim report may be omitted by some members about a nearby Radar base station installation). In this phase the analysis deals with the effects and not so much with the causes because in the next phase a quantitative determination is made.
By analyzing hazardous or non-polluting electromagnetic fields can be programmed to be controlled and secured by electromagnetic fields giving staff and customers a healthy work and living space. Well-known motto 'knowledge in business is powerful and used for benefit and development'

Quantitative determination

At this stage the goal is to answer the question "how dangerous is an activity?". It includes a large number of techniques for assessing the level of risk. The specific techniques follow the same method: It can be well applied to measurements and risk analysis of electromagnetic fields
Estimation of the probability of occurrence
Determining the extent of the impact of the contingency (critical, significant, secondary) contingency here is electromagnetic pollution
Techniques for quantification:
The expected value
Sensitivity analysis
The Monte Carlo method
The analysis of failure conditions
The program evaluation and review technique (PERT)

Control or mitigation of effects

Once the risks that need to be managed are identified, some procedures are needed to ensure that the likelihood of the risk is reduced or that the impact is mitigated. For example, the risk of delaying an activity can be reduced by reducing the scale of the activity. The various effects that will be caused by the specific risks that have been identified must be thoroughly controlled and recorded. This will make it possible to apply the various procedures in order to either eliminate the risk or mitigate its effects. can also be applied and adequately analyzed by electromagnetic map mapping and analysis studies and radiation pollution in the company

Internal Report

Different levels within the organization also need different information from risk management.
The Board of Directors must: be informed of the most important risks faced by the organization
knows the potential impact on equity value ensures appropriate levels of information and awareness throughout the organization knows how the organization will handle a crisis knows how to manage communications with the investment community is sure that the risk management process works effectively
Individuals should: understand their responsibility to individual risks
understand that risk management and risk awareness is a key part of the organization's culture. Systematically and directly report to top management any new risk or failure of existing control measures that are perceived.

External Report

The company must regularly inform those who have a legal interest in its activities, describing in detail the risk management policies and the effectiveness in achieving its goals. A methodical approach to risk management is required which:
protects the interests of those involved
ensures that the Board of Directors fulfills its duties
ensures that administrative audits are carried out and that they are effective

Use risk analysis

Clearly, it is not possible to predict every possible course that the project can take. However, it is possible to assess 20% of major risks (likely to cause 80% of problems, delays or delays).
In the event of a significant risk it is natural to have a response plan. These response plans should be part of the project proposal. The use of risk analysis techniques is usually required by company policy and customers
Advantages of risk management

Risk management provides an important weapon for improving project plans and at the same time ensures a better capture of reality. The areas that need more attention are already identified from the design phase. This allows the risks to be dealt with more immediately and quickly. It is also possible to quantify the risk and at the same time to monitor the course of this factor in the past in order to use the knowledge in the future in other projects.